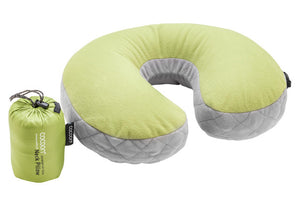 Cocoon by Design Salt: NEW Ergo U-Shaped Air-Core Neck Pillow
Regular price $34.95 Sale
COCOON BY DESIGN SALT: Unique, washable accessories that accompany travelers worldwide.
Revolutionary U-Shaped Inflatable AirCore Pillow, now designed with enhanced comfort and support for a truly restful experience. With its unique flattened back and top bumps, this pillow offers an unparalleled level of comfort and relaxation, allowing you to enjoy a peaceful sleep or restful nap wherever your journey takes you.
Neck support with premium synthetic fill and inflatable air-core
Comfortable and soft Microfiber shell. 
inflatable, exchangeable air core underneath a layer of premium synthetic fill
perfect comfort and support as well as minimum packing size
Size: 38 x 27 x 11 cm  |  15 x 11 x 4 in    Weight: 120g  |  3.9 oz.
Packing Size: 4" x 3" x 4"